UCLH Proton Beam Therapy Centre is submitted for Planning Approval to Camden Council
---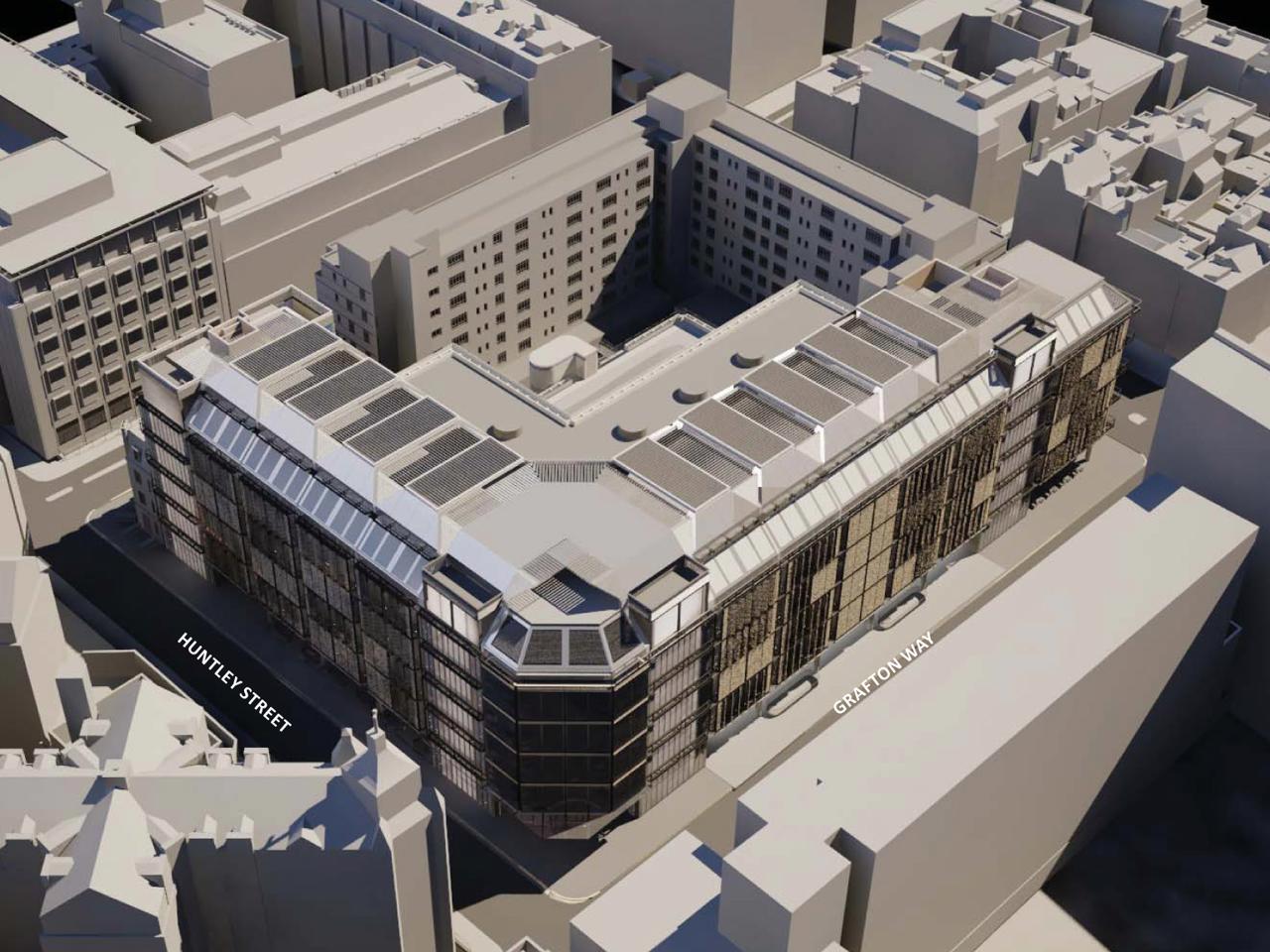 On behalf of University College London Hospitals, a full planning application has been submitted to Camden London Borough Council for the proposed Proton Beam Therapy Centre located at Grafton Way, London.
The proposal consists of the redevelopment of the former Odeon site and demolition of the Rosenheim Building to provide a Proton Beam Therapy (PBT) cancer treatment facility and day surgery facilities in 4 levels of basement; inpatient medical facilities and a ground floor retail unit (175 sq m approximate GIA) in a 7 storey development above ground (34,596.5 sq m GIA in total) including roof plant, a new pedestrian entrance on corner of Grafton Way and Huntley Street, a new service entrance on Huntley Street, a ground floor drop-off area off Grafton Way, and three roof gardens; and the relocation of the vacuum insulated evaporator (VIE) to University Street frontage inside a new enclosure.
The development will provide a cutting edge and significant enhancement to therapeutic cancer treatment services in the UK by providing world-leading radiotherapy treatment for cancer patients. This will have clear benefits for the health of the UK population, and cannot be over-stated being a clear Central Government priority. PBT targets tumours more accurately therefore resulting in less damage to surrounding tissue and reduced side effects, and significantly improving treatment in particularly vulnerable groups such as children.
The proposed development has been designed with spare capacity for 10 years of activity growth, and so can accommodate an increase in demand for this form of cancer treatment. 165 hospital beds will be provided helping to relieve the existing shortfall in beds at UCLH. The building has been specially designed in order that it can be easily cleaned/maintained, thereby ensuring a clean and sterile environment in which particularly vulnerable cancer patients can recover. The scheme will comprise new, below ground day surgery facilities thereby relieving the existing pressure on surgery facilities elsewhere within the UCLH estate, and providing much-needed support to UCLH cancer services
The development will deliver an exceptional design using very high quality materials befitting of the world-class nature of the PBT facility housed within. This will result in a significant enhancement to the appearance of the site, the surrounding area and Bloomsbury Conservation Area.
The proposed development will meet the BREEAM 'excellent' standard, hence giving rise to minimal carbon emissions. This is a significant enhancement to the existing situation at the Rosenheim Building, which by virtue of its historic construction is very energy inefficient.
Aside from the clear medical benefits of the proposals, the development will make use of an urban brownfield site, half of which has been vacant for approximately 40 years, hence repairing the urban fabric with a building of exceptional quality and bringing the land back into use.
The Proton Beam Therapy Centre at University College London Hospital is designed by Scott Tallon Walker Architects in association with Edward Williams Architects & Tsoi Kobus & Associates